How Socloz, a retail actor, survived Covid through sales prospecting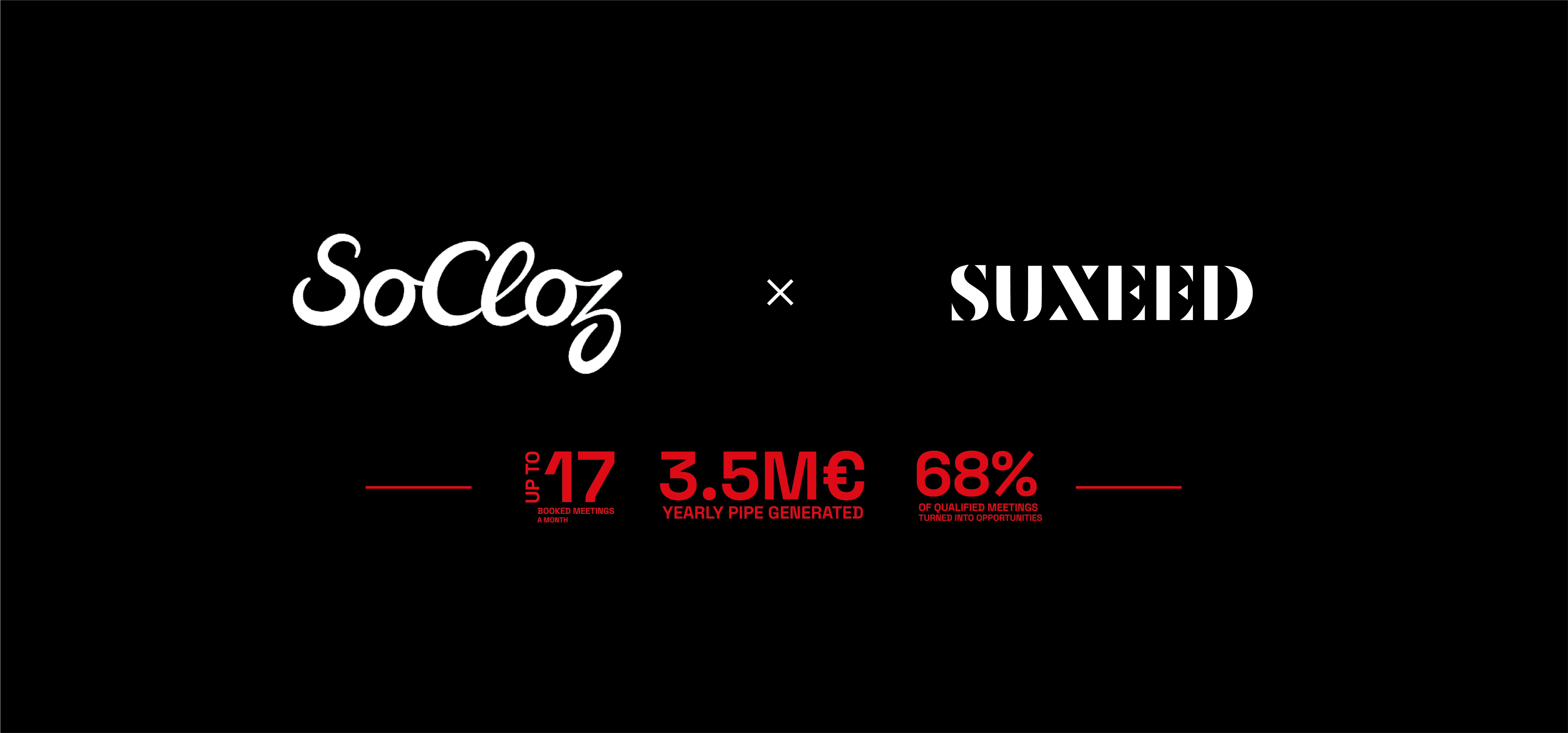 "Processes and qualified profiles to generate a maximum of leads in a record time, the Suxeed method is a guarantee of success, even in tech."

Gaspard d'Humières, Head of Sales Socloz
Quick look
Business : B2B SaaS
Market : Retail
Need : Generate a qualified sales pipeline for the Account Executives
Target : 6 qualified opportunities a month
Results : 90+ qualified meetings a year ( approx. 8 a month) during Covid and lockdown periods
Download the use case summary in PDF format : download
The company
Socloz is a commerce digitalisation platform, offering a comprehensive omnichannel platform enabling Click & Reserve, Click & Collect and Express Click & Collect, with the aim of generating traffic in stores. Socloz also helps improving the conversion rate on the sales floor thanks to Store to Web, Express payment and Clienteling.
The challenge
Suxeed worked with Socloz in the midst of the Covid health crisis and the subsequent economic crisis in the retail sector. The main objective of our collaboration was to maintain the revenues of the company by generating as many new business opportunities as possible with major French retail players.
The solution
In order to achieve these goals, we implemented dedicated go-to-market, targeting and evaluation strategies. To build these strategies, we translated Socloz's vision into a clear conquest strategy and a powerful sales message that will resonate with their target.
We then built the "sales playbook", summarizing all the information about Socloz and the main selling points. It contains custom email templates and sequences, call scripts, best answers to prospect objections and a qualification script to help discover needs.
This playbook is given to the BDR. With years of experience in B2B phone hunting, they love their work and are driven by their determination and their desire to excel. Full-time dedicated to Socloz and educated on the market, they quickly mastered the product and adopted an expert approach. With the help of the best prospecting softwares and the playbook, they were able to implement the strategy developed earlier without wasting time, and make several hundred calls a day for more results.
In order to allow BDR to stay focused on the calls, we have generated their leads, managed their email sequences and automated repetitive tasks. We have created a list of qualified leads in agreement with the criteria established upstream with Socloz, and enriched it with phone contacts, emails, and other important data.
The results

Through an effective business development strategy with Suxeed, Socloz has been able to meet with many large players in their market, such as the following companies:
Our conclusion
We were able to observe that in the case of a company that has been present for a decade in an already mature and competitive market such as Socloz, it is still possible to generate close to a hundred opportunities in one year by implementing an appropriate outbound sales strategy. With the right Business Developer, the right tools and the right sales strategy, Socloz has been able to maintain a healthy sales pipeline in the retail market whilst in the midst of the Covid period.
Visit our blog to learn more on topics like business development, sales and cold calling that will help your business achieve high growth! Don't forget to check out our other case studies to discover what results business development has brought to other B2B tech companies.
Want to achieve the same results? Write to our CEO Ephraïm Bismuth to find out how to adapt the business development model to your own company!