Orchestra Sales becomes Suxeed – and continues to support you for more B2B sales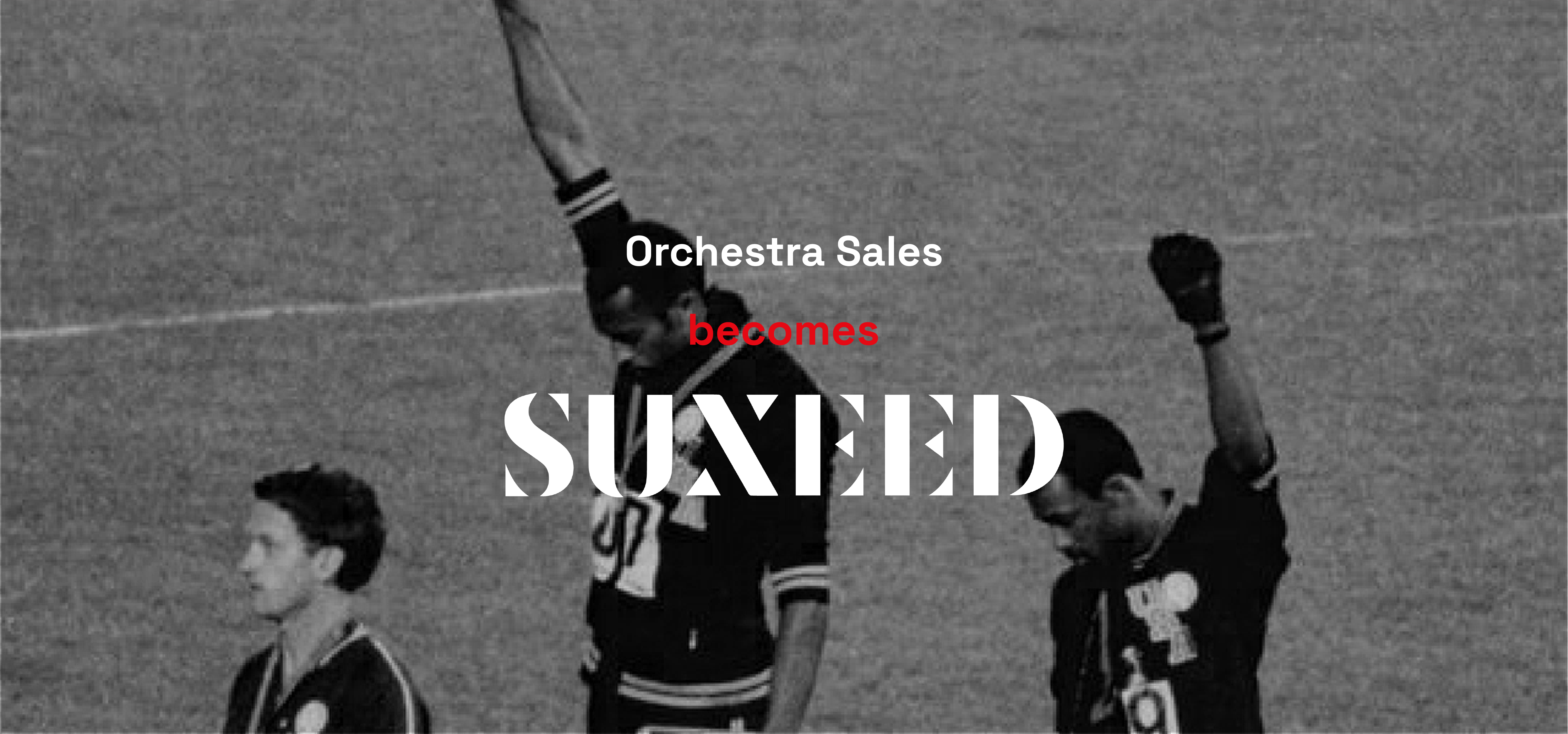 After two (exciting) years of operating under the name Orchestra Sales, we recently changed our identity to Suxeed.
We changed our name and our logo, but our values are as strong as ever. The Suxeed mission? Boost your success through the most effective B2B business development strategy possible.
Our observation
For high-value B2B companies, sales prospecting is the most effective acquisition channel for quick growth, but it is also one of the most complex model:
There are very few good business developer profiles
Business Development is hard! Not just anyone can be a good BDR, and it is all about having the right mindset. Find out more about the importance of a strong mindset in sales in our article on the topic.
There are very few managers with enough expertise to drive these junior profiles
The sales manager provides ongoing support to the team and helps to maximise results. It is crucial to the success of a sales team, and especially for a business development team, since BDR are junior profiles that need additional coaching and training.
The average turnover for a Business Developer is eleven month
Hiring good Business Developer profiles is not only difficult, but you have to do it over and over again to avoid holes in your sales pipeline.
That's why we've made it our goal to help you generate quality sales pipe to support your growth. Suxeed is the Business Development Manager you've always dreamed of: a strategist and a salesman at the same time, a connoisseur of B2B and tech. Our sales people have the hunt in their blood, are coached on an ongoing basis and are dedicated to you full time, in order to maximise performance. Nothing is left to chance.
A new service
In order to support you even more in your business development needs, we, at Suxeed, have also decided to offer you an additional service on top of our already existing Suxeed solution:
The recruitment of sales hunters. In two years of activity as Orchestra Sales, we have interviewed more than 3,700 Business Developer profiles for our clients' needs, allowing us to build a large portfolio of excellent sales profiles! We know that recruiting good business developers is a real problem for many companies, so, as Suxeed, we decided to offer our hiring expertise and provide a BDR recruitment service. High quality profiles available in limited numbers!
But still the same results
Thanks to our expertise in business development and our experience in the SaaS world, the solution has generated in 2021 for our customers :
Up to 350k€ of commercial pipe a month
1.5M€ to 4M€ of qualified pipe per BDR per year (depending on deal size)
A closing rate of up to 25%
The most successful B2B companies already trust us with their business development.
Why not you?

Are you a B2B company looking to launch or boost your business development? Suxeed is your ally!
To know more
Want to know more about our new name? Watch our video 👇
If you are eager to know more, visit our blog to learn on topics like business development, sales and cold calling that will help your business achieve high growth! Don't forget to check out our case studies to discover what results business development has brought to other B2B tech companies.
You have a question? Want to discuss a theme or a need? Write to our CEO Ephraïm Bismuth to find out how to adapt the business development model to your company!