How Mindsay boosted their sales after Covid thanks to business development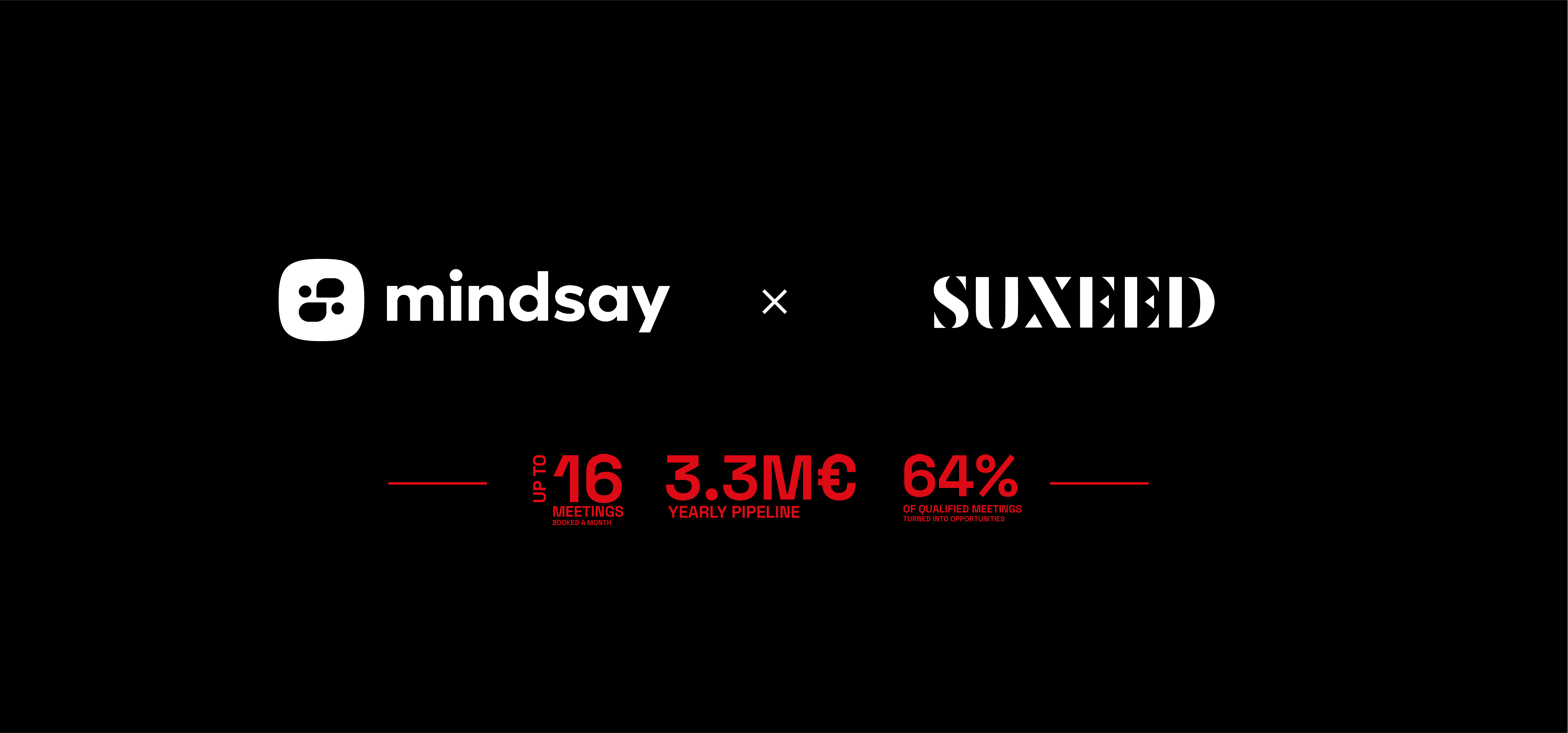 "It's the ideal solution for a B2B organisation that is just starting out or scaling up, as it allows your teams to have a qualitative, flexible and adapted prospecting activity, but without the hidden costs that are sometimes difficult to manage"

Guillaume Laporte, CEO Mindsay
Quick look
Company : B2B SaaS
Market : Customer Service, Customer Experience, Automation
Need : Boost sales after Covid
Target : 8 commercial opportunities a month
Results : Up to 16 meetings a month (approximately 11 validated opportunities)
Download the use case summary in PDF format : download
The company
The French startup Mindsay develops conversational chatbots for hospitality companies whose activities are dedicated to hotels, service, transportation and others. They enable these companies to improve their customer service and optimize their resources through a no-code conversational AI platform.
The challenge
With Mindsay's historical business sector, tourism, hit hard by Covid, a strong sales strategy was needed to boost sales. The goal? Create new opportunities on new verticals and new territories. A real challenge that Suxeed took on!
The solution
In order to achieve these goals, we implemented dedicated go-to-market, targeting and evaluation strategies. To build these strategies, we translated Mindsay's vision into a clear conquest strategy and a powerful sales message that will resonate with their target.
We then built the "sales playbook", summarizing all the information about Mindsay and the main selling points. It contains custom email templates and sequences, call scripts, best answers to prospect objections and a qualification script to help discover needs.
This playbook is given to the BDR. With years of experience in B2B phone hunting, they love their work and are driven by their determination and their desire to excel. Full-time dedicated to Mindsay and educated on the market, they quickly mastered the product and adopted an expert approach. With the help of the best prospecting softwares and the playbook, they were able to implement the strategy developed earlier without wasting time, and make several hundred calls a day for more results.
In order to allow BDR to stay focused on the calls, we have generated their leads, managed their email sequences and automated repetitive tasks. We have created a list of qualified leads in agreement with the criteria established upstream with Mindsay, and enriched it with phone contacts, emails, and other important data.
The results
After two unsuccessful attempts to outsource their business development, Mindsay finally got the results they were looking for with Suxeed.

Through effective business development with Suxeed, Mindsay has been able to meet with many large players in their market, such as the following companies:
Our conclusion
In the context of Mindsay's needs, the business development strategy allowed us to reach new markets, new geographies and new verticals in a very short time and in a difficult environment. The results obtained with Mindsay proves that with the right sales pitch, the right targeting and the right prospecting engine, sales prospecting is a reliable growth model, and results were seen in just a few weeks! Following this collaboration, Mindsay was acquired by market leader Laiye. Congratulations to them!
Visit our blog to learn more on topics like business development, sales and cold calling that will help your business achieve high growth! Don't forget to check out our other case studies to discover what results business development has brought to other B2B tech companies.
Want to achieve the same results? Write to our CEO Ephraïm Bismuth to find out how to adapt the business development model to your company!